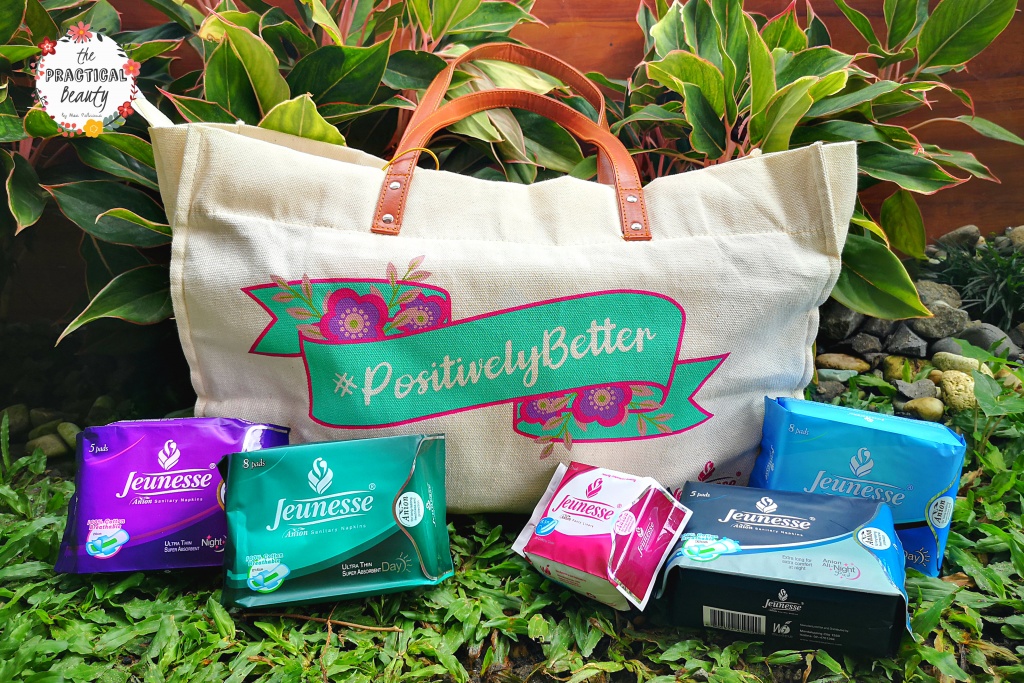 There are a lot of Filipinas out there that struggle with urogenital problems. It's not that we're negligent about "down there care". But, as my previous clinical instructor in nursing school once said, women are naturally susceptible to reproductive system problems. It is because of different hormonal changes that happen in our bodies. The Jeunesse Anion Napkin may be the solution Filipinas are looking for.
Are Commercial Sanitary Pads Really That Bad?
I really didn't think so, at first. After all, I have been using whatever I could get my hands on in the supermarket. But, after reaching 28, I became more conscious of my reproductive health. I read this study (when you click on the link a pdf file will download on your computer) that says:
Consumers expect the safe use of disposable hygiene products in the extended period and frequent use, yet the expectation is challenged at times. A study by the non-profit organization for women safety and academic research have reported that feminine pads include several chemicals of concern which are not identified by manufacturers.

Safety Evaluation of Absorbent Hygiene Pads, Published 11 November 2018
In 2014, Women's Voices for the Earth commissioned a test of four types of sanitary pads made by P&G. The results found that both the scented and unscented versions of the pads emitted toxic chemicals. Some of the following chemical concerns are:
Styrene: Carcinogen
Chloromethane: Reproductive Toxicant
Chloroethane: Carcinogen
Chloroform: Carcinogen, Reproductive toxicant, Neurotoxin
Acetone: Irritant
I can't even pronounce most of the chemical names listed above. But, it's enough for me to know that they are an irritant and, worse, a carcinogen. When on your period, you could potentially be wearing pads that are bad for you. And, you'll be wearing them five to seven days in a row! Yikes!
The Anion Strip in a Jeunesse Anion Napkin
So, what's a girl to do? The answer is the Jeunesse Anion Napkin which has an anion strip. Anions come from nature. When droplets break the surface of water, a layer of electricity is formed. In this process, an anion is generated giving the surrounding area a minimal negative charge.
Anions are beneficial to the body. This is the main reason why we feel refreshed and recharged when we go to the beach, or when we visit a waterfall.
This negative charge was introduced to the Jeuness Anion Pad via a strip. When you use a Jeunesse Anion Pad, you're introducing your body to these fabulous negative charges.
Jeunesse Anion Napkin Benefits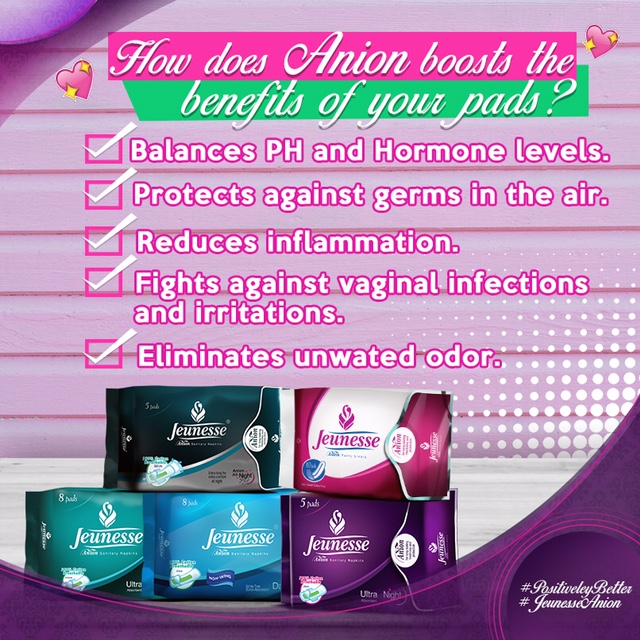 Now that we know how anions are produced, what health benefits can you get from using a Jeunesse Anion Napkin? According to research, negatively charged ions can help:
Balance PH and hormone levels
Protect against germs in the air
Reduce inflammation
Fights against vaginal irritations and infections
Eliminate unwanted odor
For some, it can even reduce the menstrual cramps. You just have to remember to change your pad every 3 to 4 hours.
Is theJeunesse Anion Napkin Expensive?
Now that you know what a Jeuness Anion Napkin can do, you might be thinking that you can't possibly afford it. Actually, it is pretty affordable. It's not as cheap as other sanitary pads in the market. But, with the benefits that it can bring, especially "down there," the price isn't bad at all.
Ultra Thin Super Absorbent Day Pad – P82.00 (8 in a pack)
Ultra Absorbent Day Pad – P84.00 (8 in a pack)
Ultra Absorbent Night Pad with Wings – P71.00 (5 in a pack)
Extra Long Night Pad – P63.00 (5 in a pack)
Soft and Smooth Cottony Cover Anion Panty Liners – P42.00 (10 in a pack)
Where Can I Buy the Jeunesse Anion Napkin?
You can buy the Jeunesse Anion Napkin online. You can either purchase it on Lazada or Shoppee. I've included my affiliate link for the Lazada website, so if you use my link and purchase through it, I'll be getting a small commission.
3s Bundle
Ultra Thin Super Absorbent Day Pad – P82.00 x 3 = P246
Ultra Absorbent Day Pad – P84.00 x 3 = P252
Soft and Smooth Cottony Cover Anion Panty Liners – P42.00 x 3 = P126
I'm going to write a review soon so watch out for that! So, in conclusion, I feel like the Jeunesse Anion Napkin is a good choice for a modern Filipina. Not only is it affordable for an anion pad, but it can also greatly help promote a healthy reproductive system. If you want to know more about the Jeunesse Anion Napkin, here are some helpful links: