Above cosmetics, one aspect of beauty that everyone should absolutely focus on is skincare. I cannot stress enough how important taking care of your skin is, especially if you like putting makeup on every day. For me, this entails monthly visits to the Dermatologist or any skincare clinic. However, I need to be realistic most of the time. I am a modern Filipina who has a lot of things on her plate. As much as I want to balance everything, I do not have enough time. This is why I was so thankful that New Life PH gave me a set of their Neobeau Home Clinic Diamond 3-Step Peeling Program.
Disclaimer: The set was given to me to try out but I was not compensated to write this review. All views and opinions in the text belong solely to me.
Does the Neobeau Home Clinic Diamond 3-Step Peeling Program Work?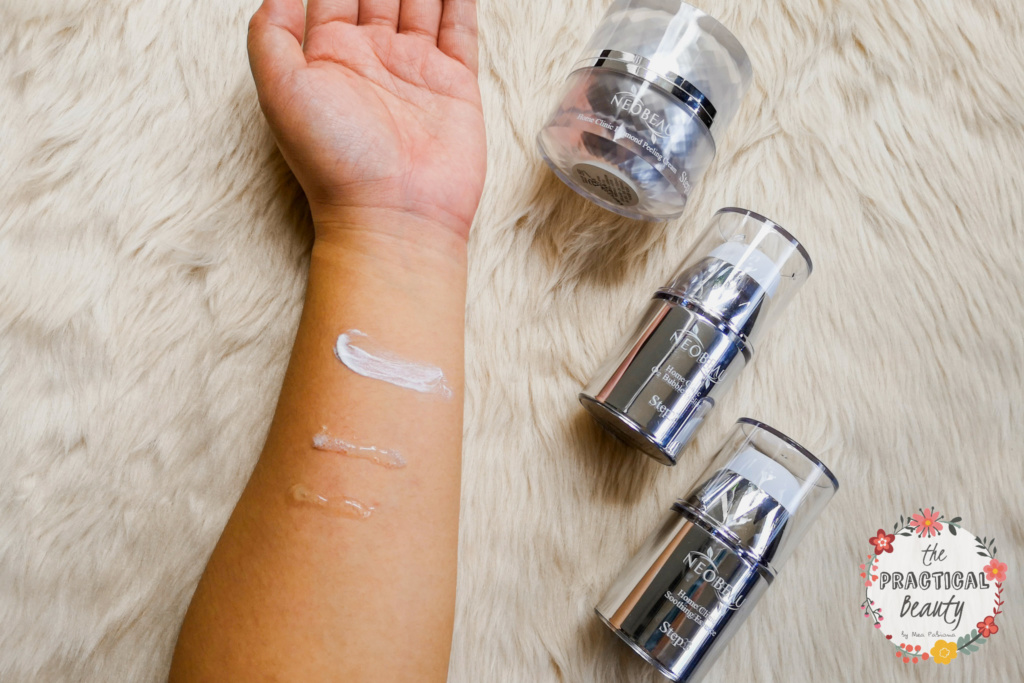 The Diamond Peel procedure is pretty popular in different skincare clinics. I have tried it myself twice, but I do not have enough time in my schedule, even during weekends, to consistently avail of the procedure. But, the Neobeau Home Clinic Diamond 3-Step Peeling Program is my answer to this.
What is the Neobeau Home Clinic Diamond 3-Step Peeling Program?
We all know that a Diamond Peeling procedure is a non-invasive way to remove dead skin cells, dirt and excess oil on the skin's surface. It also improves the texture and appearance of the skin as it reveals a newer layer. The Neobeau Home Clinic Diamond 3-Step Peeling Program aims to do the same, but it's a DIY kit which means that you can do it yourself at home.
A 3-Step Process
When you get the set, you will receive three products: Step 1, Step 2, and Step 3. Each product has its own function:
Step 1 (Physical Peeling) Diamond Powder
● Soft and tender pudding style diamond cream that gently renews skin.
● Reveals healthy and younger cells.
Step 2 (Chemical Peeling) Oxygen Bubble Pack 
● Breathing in Oxygen back into your skin.
● Rejuvenates and revives tired skin to bring back its glow.
Step 3 (Soothing & Moisturizing) 
● Moisturizing, anti-wrinkle, whitening and calming.
● Nourishment perfect even for sensitive skin.
How to Use the Neobeau Home Clinic Diamond 3-Step Peeling Program
I like that the set only requires for the user to go through three steps. It's not complicated and it doesn't require instruments. All you need to get started are:
Clean hands
A clean face
A face towel
Step 1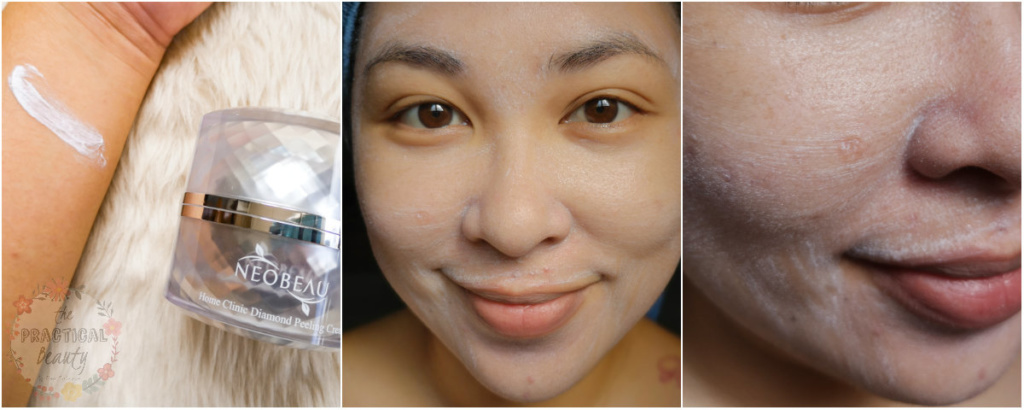 Open the diamond cream. This is going to provide your physical peeling. It's an exfoliant (think St. Ives Apricot Scrub) however, the main difference with this and other facial scrubs in the market is that the exfoliation is fine because the diamond powder particles are tiny.
So what if the diamond particles are minuscule? This is a good question. Because the particles are tiny, they can offer an even exfoliation. Plus, they can clean out your face's nooks and crannies with ease.
Spread the cream as you massage your face. Don't over scrub the skin on your face, but do spend some extra time massaging the cream on oily areas and areas where you have acne scars. Don't forget your nose which probably has a million blackheads (like mine).
Then, take your clean facial towel, wet a small part of it. Use this part to wipe off the cream that you massaged on your face.
Step 2

This is my favorite part because the Step 2 (Oxygen Bubble Pack) bubbles up by itself, and it smells like citrus. I am in love with the smell and the sensation. When you have already removed the diamond cream, do five pumps of the Step 2 on your clean palm.
Immediately, apply the solution on your face. It's going to bubble up. Leave it on for about 5mins. I usually do 10mins. Do not rub it in yet. Just apply it, then leave it on. When your time is up, go to your faucet and then wash out the solution. Treat is like a facial wash. You can massage your face to build up more suds. Rinse thoroughly.
Step 3

Pat your skin dry. Now, you are ready for Step 3 which is the Nourishing Gel. Do about 3 to 5 pumps on your clean palm, then apply it to your face. Step 3 is the moisturizer and the agent that soothes your skin. In Step 1 and 2, we exfoliated physically and chemically, so your skin will need a calming and moisturizing product.
Did It Really Work For Me?
Now, let's get down to answering: "Does the Neobeau Home Clinic Diamond 3-Step Peeling Program really work?" The set arrived on September 6, 2018. I used it immediately. On the first week, I was advised to use the set three times. On the succeeding weeks, I was recommended that I use it only once. It is now October 8, 2018. Here are my results: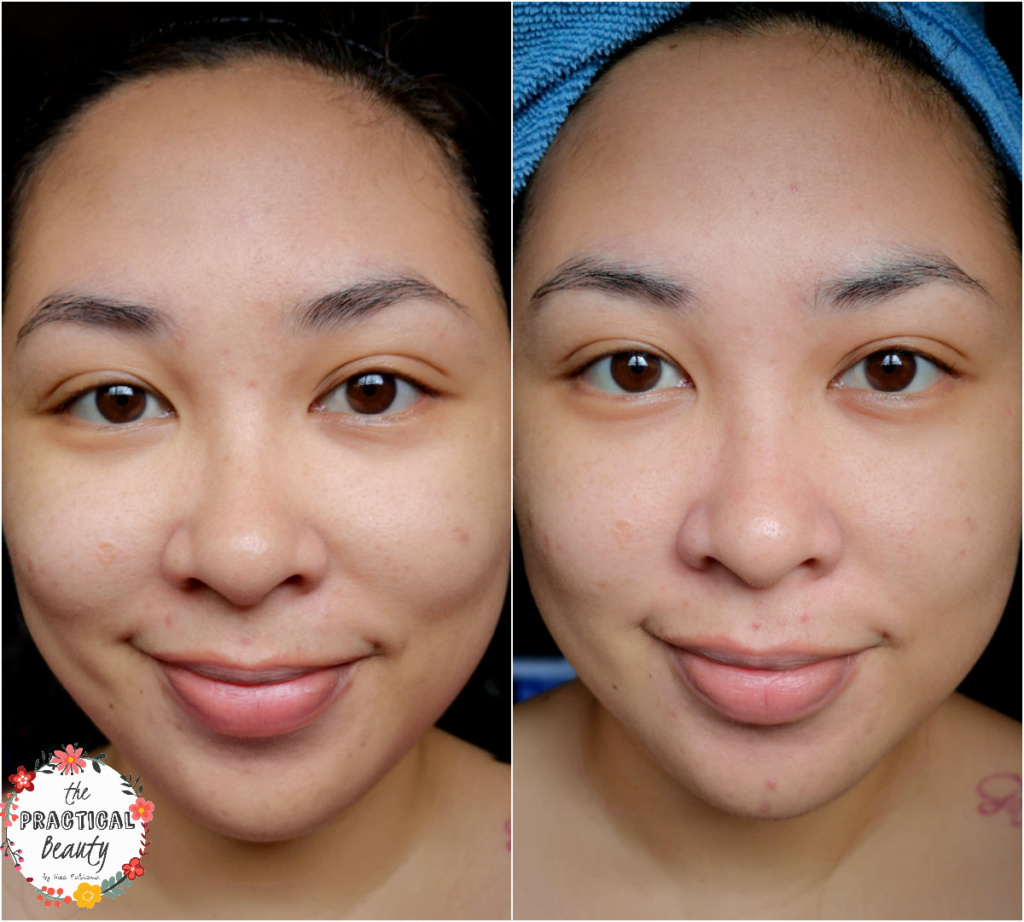 The acne scars in between my brows have lightened. Some scars on my cheeks and sides of the chin have lightened as well. Definitely, you will see new acne scars, but those are just from stress and not eating healthy (guilty me!LOL). Other than those, I can feel that my skin's texture has improved.
The Pros I Experienced with the Neobeau Home Clinic Diamond 3-Step Peeling Program by New Life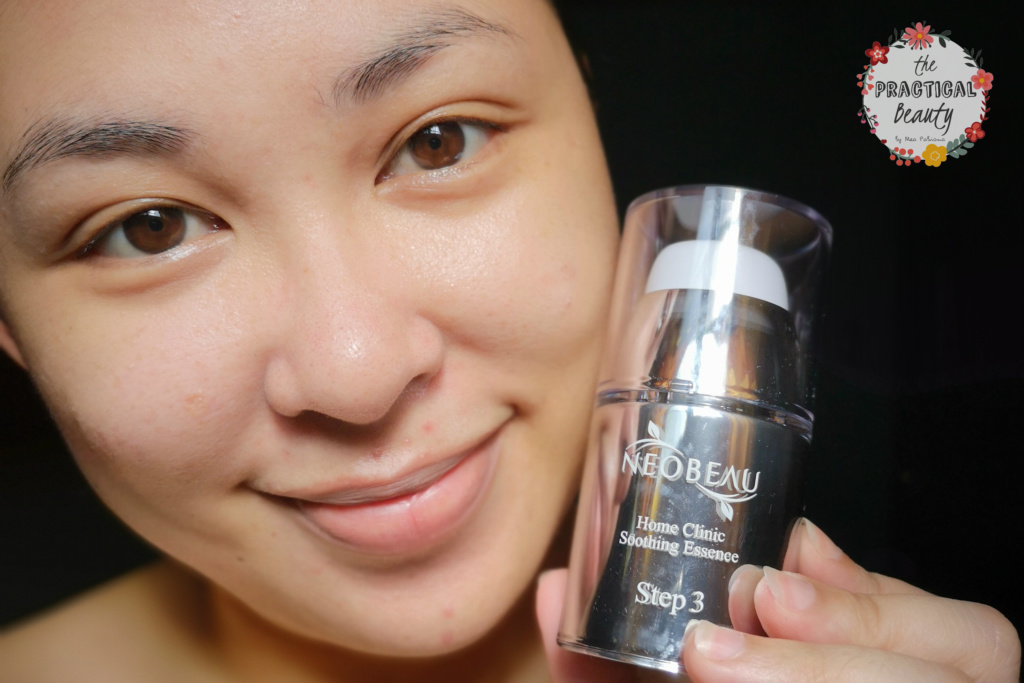 Aside from the benefits that I have already experienced, I can say that this set has saved me time. As mentioned, I am a modern Filipina who tries her best to juggle everything. Skincare is in my list, of course, but I do only the basics. With this set, I don't have to call for an appointment, wait in line, or even sit through the whole procedure. After I take a shower, I can do the entire process in about 10 to 20mins, depending on the time I allow for my Step 2.
Also, the contents of each product are enough to last me about 4 to 5 months since I only use the kit once a week. On top of everything, it utilizes 4th Generation Biotechnology. Though it only requires 3 steps, it's a set that's packed with the power of Science and Nature.
The fact that it truly works is a BIG PRO of its own.
Did I mention that it's free from artificial fragrance and Parabens? Here is the list of the set's ingredients that will make your skin happy:
Rice SH-EGF, Bio Peptide Complex 1&2™, Vitamins & Minerals, Algae Extract, False Daisy Extract, Argan Kernel Oil, lecithin, Squalane, Shea Butter, Green Tea Leaf Extract, Purslane Extract, Milk Protein Extract, Lemon Peel Oil, Aloe vera Juice, Pine Oil, Lavander Oil, Orange peel Oil, Rose Geranium Oil, Eucalyptus Oil, Ylang-Ylang Oil, Hyaluronic Acid, Oxygen, Trhalose, Freesia Extract, Camellia Flower Extract, Sacred Lotus Ferment Extract Filtrate, Bamboo Extract, Cucumber Fruit Extract, Pearl Extract, BioAquatics™
The Cons I Experienced with the Neobeau Home Clinic Diamond 3-Step Peeling Program by New Life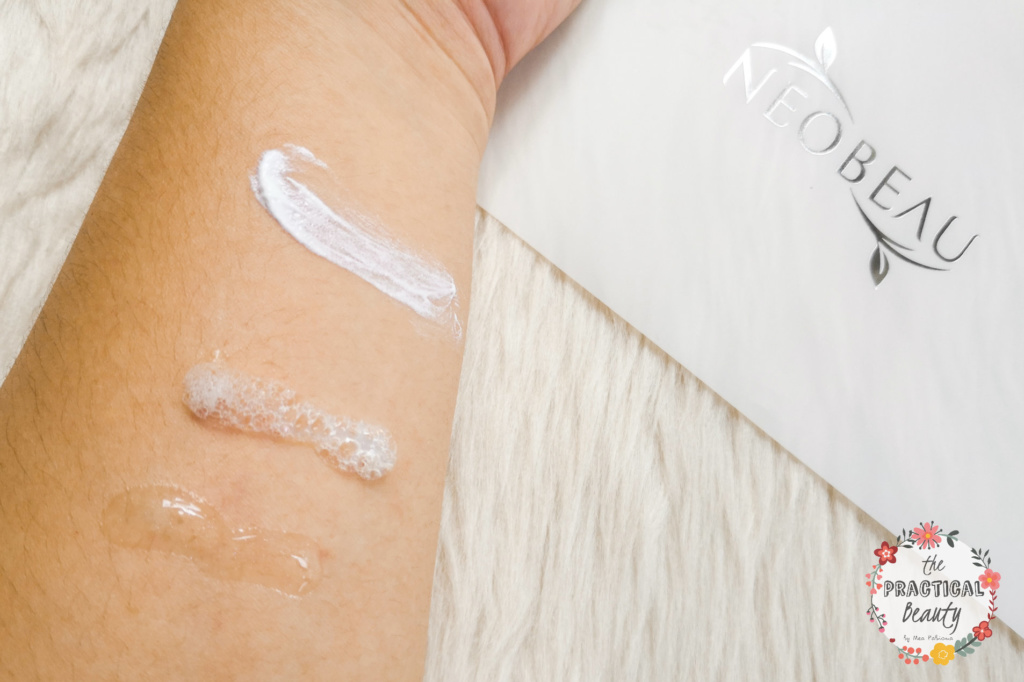 The kit costs P10,500 on the New Life PH website. It's expensive but if your kit lasts six months, it will be worth the price. Plus you don't have to go out to get a Diamond Peel procedure. Also if you consider becoming a member of New Life Ph, you will be given as much as 35% in discounts.
When to Use The Set Plus Special Instructions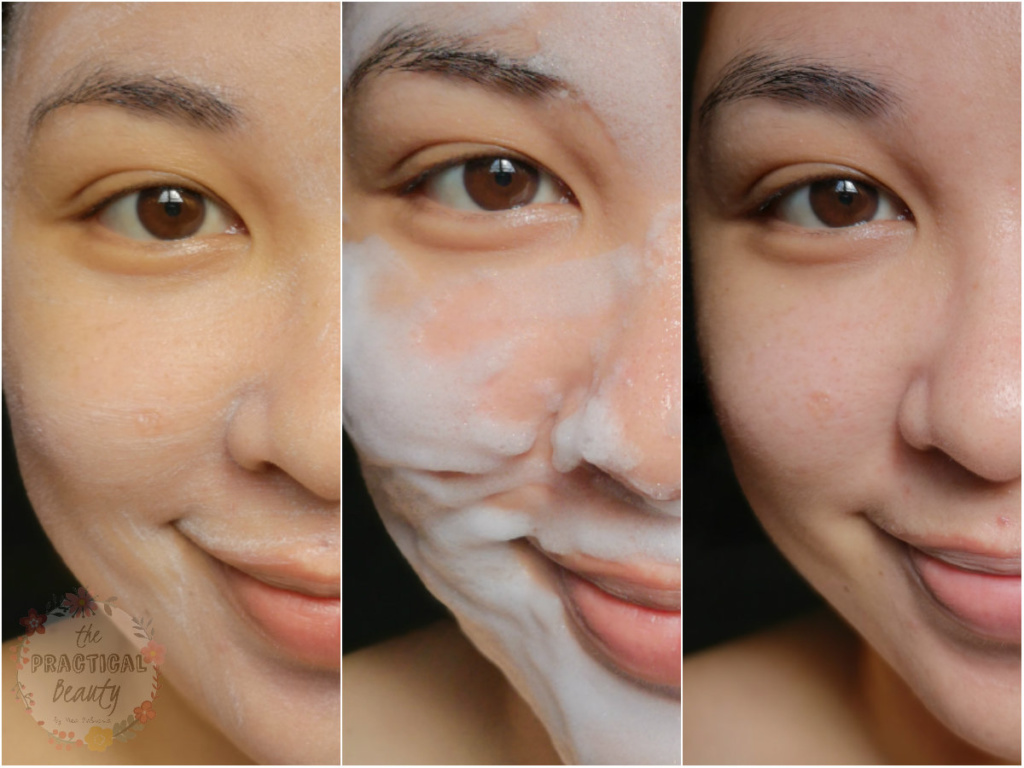 I use the set once a week. However, if your skin is oily, you may use it twice or even three times a week. I usually use the set twice if I need more cleaning on my skin, like if I feel that my pores have become too clogged with oil and makeup residue.
Did you know that regular exfoliation can also help your foundation apply evenly? That's because you've gotten rid of the bumps and dead skin already. This is why I also use it three days before an event to prep my skin. For example, if I have a wedding or a party to attend, I would use the set three days before to make my skin look younger and more radiant.
I highly recommend that you use this before bedtime. You are taking off a thin layer of your skin, so it is a must for you to protect it from sunlight. When you use the set before bedtime, it allows enough time for your skin to regenerate.
I DO NOT ADVISE putting on makeup right after Step 3. The idea of the set was to clean your skin. Allow it to heal and regenerate before putting on makeup.
Learn More About NewLife Products
If you want to know more about New Life Ph and the Neobeau Home Clinic Diamond 3-Step Peeling Program, you may visit their website www.newlifephil.com. You can also check for updates on their social media accounts:
Thanks for reading!