hello, glass skin! starter kit review
P1399.00
Pros
Mindfully crafted skincare with safe, non-toxic ingredients.
Ideal for those seeking a general skincare routine.
Embraces simplicity with a concise product lineup.
Cons
Not a quick fix; consistent routine is essential for visible results.
May not cater to specific skin issues like aging or intense blackhead concerns.
In a world filled with overwhelming choices of skincare options, isn't it refreshing to find a brand that believes in simplicity? Today I'm excited to share my thoughts on Fresh Theory Skincare hello, glass skin! starter kit. With this kit, you can say goodbye to complicated routines and endless guesswork. This local skincare gem is all about straightforward, down-to-earth beauty that delivers real results. Let's talk about how Fresh Theory Skincare's mindful approach to skincare can transform your routine into something effortlessly beautiful.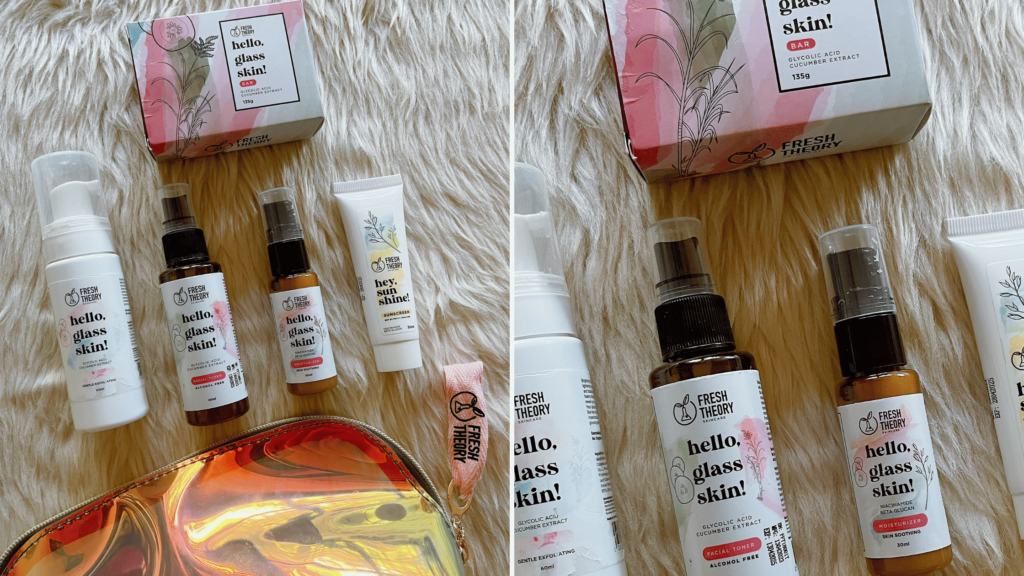 Meet Fresh Theory Skincare
Fresh Theory Skincare isn't just a skincare brand. With a commitment to safe and non-toxic ingredients, they take the guesswork out of skincare. Because let's face it, healthy skin equals a happy you. And who doesn't want that? Researching the brand's beliefs, I'd say that Fresh Theory Skincare is more of a philosophy of simple skincare backed by science.
Fresh Theory Skincare: Ingredient Heroes
In Fresh Theory Skincare products, you're going to find four extraordinary ingredients. These are the backbone of the brand's commitment to helping you achieve your best skin:
The Products I Tried
Curious about the goodies I've had the pleasure of trying? Here's the lineup of Fresh Theory Skincare products inside the hello, glass skin! starter kit:
Morning: Hello, Glass Skin! Foam Wash
This is what you start with in the morning. Gentle yet effective, this foaming wash reminds me of Cetaphil's foaming wash. Because your skin has already been prepped the night before, you don't really need a stronger cleanser. This foam wash gets the job done without compromising your skin's comfort.
Morning: Hey, Sunshine! Sunscreen – SPF 50 PA+++ UVA/UVB
Sun protection is non-negotiable. With SPF 50 and PA+++, it shields your skin from harmful rays. Plus, no white cast! And, it doesn't feel greasy, heavy, or sticky. Now that's a win.
Night: Hello, Glass Skin! Cleansing Bar
A scent-free cleanser that leaves your skin feeling squeaky clean. After a day of being exposed to the outside world, you can wash off the dirt and grime with this cleansing bar. I always double-wash at night just to make sure that my skin is clean (I do this especially when I wear makeup throughout the day). Some soaps dry my skin after two washes, but this cleansing bar leaves my skin hydrated which I like.
Night: Hello, Glass Skin! Toner
This toner preps your skin for the rejuvenating steps ahead. I used it after cleansing. There was a slight sting for me once I put it on but the slight sting was not uncomfortable. I just sprayed it on my face and I let it dry.
Night: Hello, Glass Skin! Moisturizer
Your nighttime BFF. Non-greasy and easily absorbed, it leaves your skin feeling pampered and ready to wake up to a radiant morning. The moisturizer feels lightweight and it's easily absorbed by the skin. I'm definitely not a skincare expert but when I used the moisturizer, it seemed to add to the moisturizing effect of the soap, sealing all the goodness in before you go to bed.
Side Note: Why SPF 50 PA+++?
Ever wondered why SPF 50 PA+++ matters? Well, it's like having a shield against the sun's harmful effects. SPF blocks UVB rays (the ones causing sunburn), while PA+++ shields against UVA rays (the sneaky ones causing long-term damage). Fresh Theory Skincare's sunscreen ensures you're covered on both fronts.
Conclusion
To sum it all up, Fresh Theory Skincare has managed to capture my heart with its honest approach to skincare. The focus on those four standout ingredients is a winner in my book. The beauty of simplicity shines through in every product, making it an ideal choice, especially for those just starting their skincare journey.
What truly stands out is the thoughtfulness behind their done-for-you approach, complete with clear instructions – very helpful for beginners. And while it won't magically grant you glass skin in a month, the key lies in consistency, as with any routine worth its salt.
Keep in mind that this kit's strength lies in its general approach. It might not be the magic potion for specific skin woes like aging or stubborn blackheads. So, if you're up for a straightforward, no-nonsense routine that embraces simplicity, Fresh Theory Skincare might just become your new everyday go-to.
Check out Fresh Theory Skincare on Facebook, Instagram, TikTok, and their website. Your journey to healthy, glowing skin starts here. Remember, it's not just skincare; it's a commitment to yourself.
The Practical Beauty
If you're on the lookout for more beauty reviews tailored for the modern Maria, "The Practical Beauty" is your destination. This Beauty Blog is your go-to for reviews that speak to us, Filipino women who want both effectiveness and consciousness in our beauty routine. For more reviews, make sure you check out more posts. If there's something that you would like me to try, please don't hesitate to contact me or email me through contact@thepracticalbeauty.com.