How much should Filipino Writers be paid? I have been freelancing for six years, and I commonly encounter this question in forums. In lieu of a recent event (read on to know what event), I thought that it is time I gave my two-cents on this. Hopefully, with today's post, I'll be able to answer this question for you or you'll be given enough insight to answer this question yourself.
Who am I and Why am I an authority on this?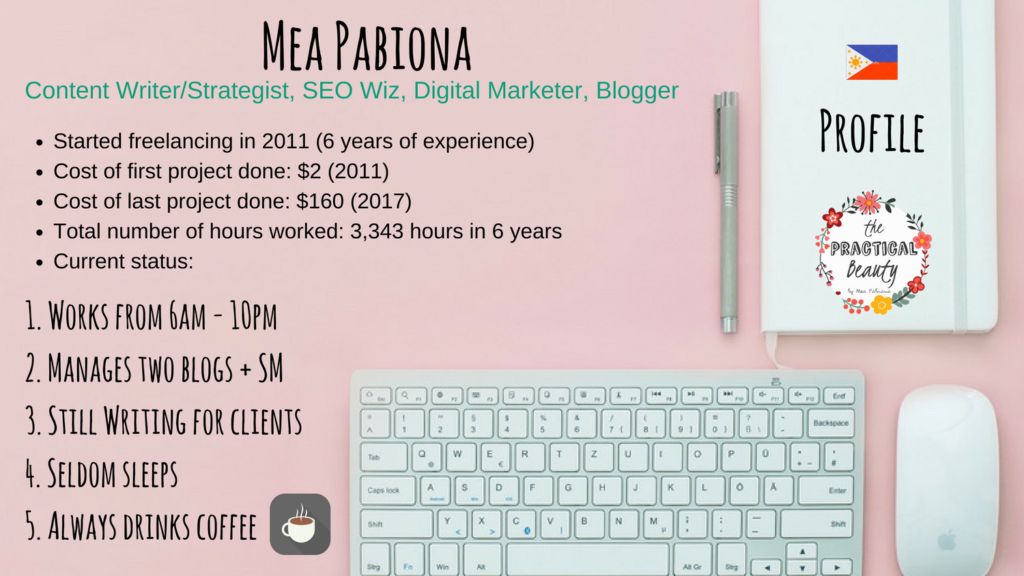 That is a great question. First off, I am a Filipino. And, like I said, I have been doing this gig for about six years. A majority of the tasks I do involve writing. That's why I call myself a content producer and strategist even though I delve into other forms of freelancing like voice overs, photo editing, social media management, web development and so on. With my experience, I feel like I have valuable insights to offer.
My Advocacy: Freelancing cuts out the middle man.
Aside from my experience, I am writing this today because I would like to encourage my fellow Filipinos, in different fields of expertise (not just Filipino writers), to give online freelancing a try. To me, it cuts out the middle men (companies that hire you), you get paid higher (as long as you work hard and know how to brand yourself), and, for the most part, you own your time.
Getting Down to Business
Now, back to Filipino writers. With my kind of experience, I usually charge anywhere from $10-$30 per 500 words (low rate if the article is basic, high rate if the article needs technical writing, research and SEO), but how about the rest of the Filipino writers out there getting their paper? Well, according to freelancing.ph (2016 statistics), most Filipinos charge around $3-$5. You can read the full article here. The next question would have to be, is this a fair rate?
Two-Cents on Fair Rates for Filipino Writers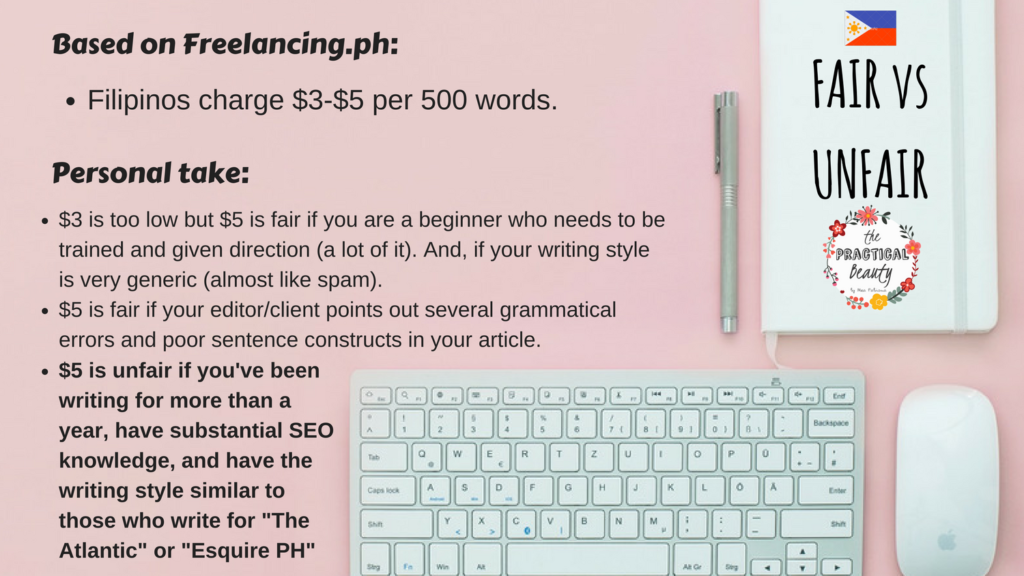 $3 is definitely too low even for a beginner, but there are those who would gladly take this rate on with no hesitation. Low-balling is a big problem in this industry. My motto has always been: if you pay for peanuts, you get peanuts. Don't expect a five-course meal. On the other hand, there are those who charge too much even though their writing skills are, to be honest, generic.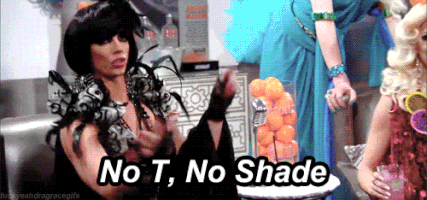 So, my conclusion is for you to work on your branding if you want to roll with the big girls (and boys). Yes, you have to brand yourself as a content writer. Present yourself in a professional way, check your sites or samples if they have grammatical errors, and always handle any situation with grace. I am not perfect myself, but I do know that does is used for singular subjects and do is used for plural ones (know your grammar basics).
Triggering Factor and Best Safety Advice for Filipino Writers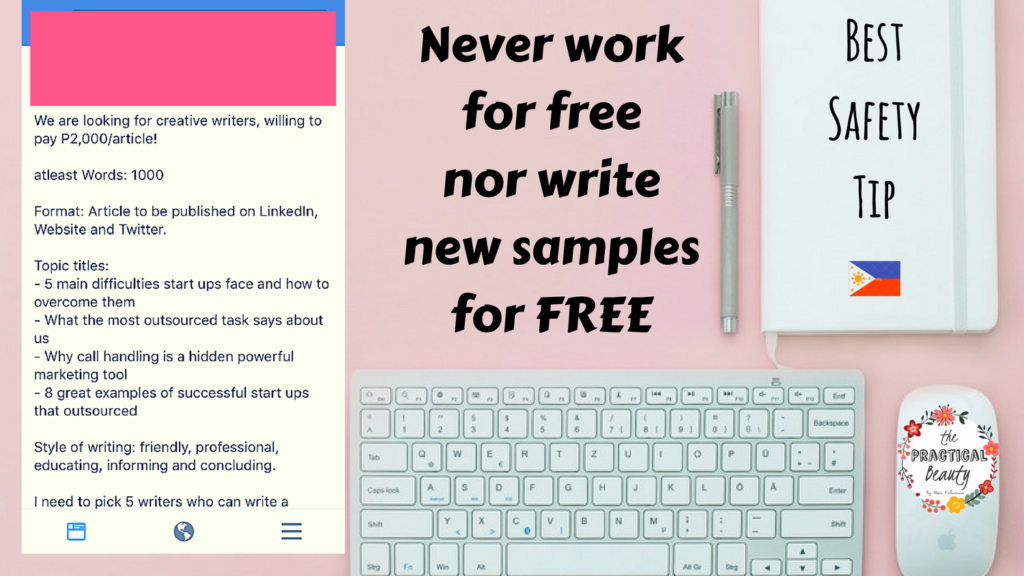 A couple of days ago, I came across this post from one of the blogging groups I belong to. This person (name covered) was asking for samples on specific topics. I thought to myself that the topics are fairly easy because I ghostwrite for a client who is in the niche of middle market business. I messaged this person with my rates but this person reiterated that they would have to select the best sample. The chosen samples will be the only ones paid. I offered to give this person samples of my past work, and then, as expected, #seenzone. NEVER WRITE FOR FREE NOR WRITE NEW SAMPLES FOR FREE.
Quick Tips for Filipino Writers
Writing is not as easy as you think. But, you CAN write or produce content for a living if you possess a willingness to learn. You don't have to be an English major to earn from writing. I graduated as a nurse and had passed the board exam but I went a totally different career path.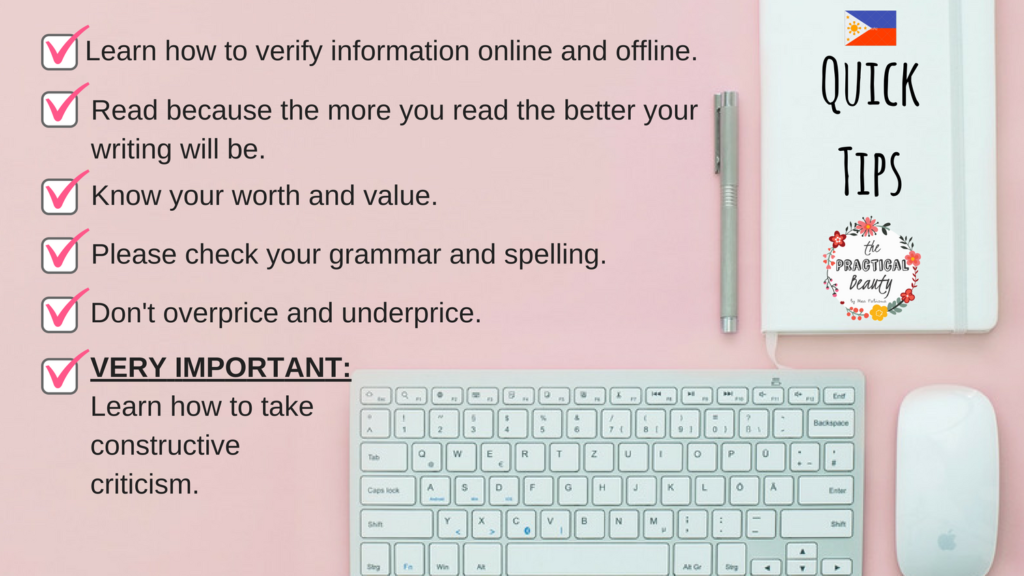 Learn how to verify information online and offline. As a writer, you're going to be required to research about the topic(s) you have been assigned. Make Google your friend – that's a key advice. In terms of offline research, you can do experiments or do interviews. For example, I blog about makeup so I do my own tests on certain products to know if they're any good.
Make reading a habit. I think the more you read, the more your writing will improve. You could read novels, online articles, and even print materials.
Know your worth and value. These two words have totally different meanings. Understand the difference and apply it to the set of writing skills you have. Knowing your value and worth will enable you to carefully choose the projects that are right for you.
ALWAYS check your grammar and spelling. Self-explanatory.
Don't overprice or underprice. Just remember that if you know your worth and value, you'll be able to set a rate for yourself that's fair.
Learn how to take feedback. In this line of work, you cannot afford to ignore constructive criticism. You're going to need the criticism for growth and development.