Bubi Bubi Tint Balm & Lip Color Stick
Bubi Bubi Tint Balm: I live for the color.
9.0/10
Lip Color Stick: The color pay-off is vibrant, but it's hard to put the cover on without getting product on the cap.
8.0/10
Pros
Bubi Bubi Tint Balm: Moisturizing and the color works for me.
Lip Color Stick: Easy application. Very smooth on the lips.
Cons
Bubi Bubi Tint Balm: It's not that much of a lasting kind of tint. It's a little glossy too which I don't like.
Lip Color Stick: The color is not the kind of red I was expecting.


I am a sucker for Korean skincare stuff and cosmetics. It's not just because my favorite K-pop stars endorse it but the products are actually pretty good in terms of quality. That's why I was so excited when I got my hands on the Bubi Bubi Tint Balm and Lip Color Stick by a popular Korean brand beauty brand called Lioele. I'm going to do a Lioele review of the two products mentioned. Plus, if you read until the bottom, I have a short tutorial for you on the infamous ombre lip using the same lippies.
Lioele Review: Bubi Bubi Tint Balm & Lip Color Stick + Bonus Tutorial
First thing's first. You pronounce the brand name as "Liyo-ellie". Even though it is a Korean brand, it does have a website for Filipino audiences. You can check it >>> here. There are also plenty of Lioele products in online marketplaces like Shopee, BeautyMNL, and Lazada, where I got mine.
Packaging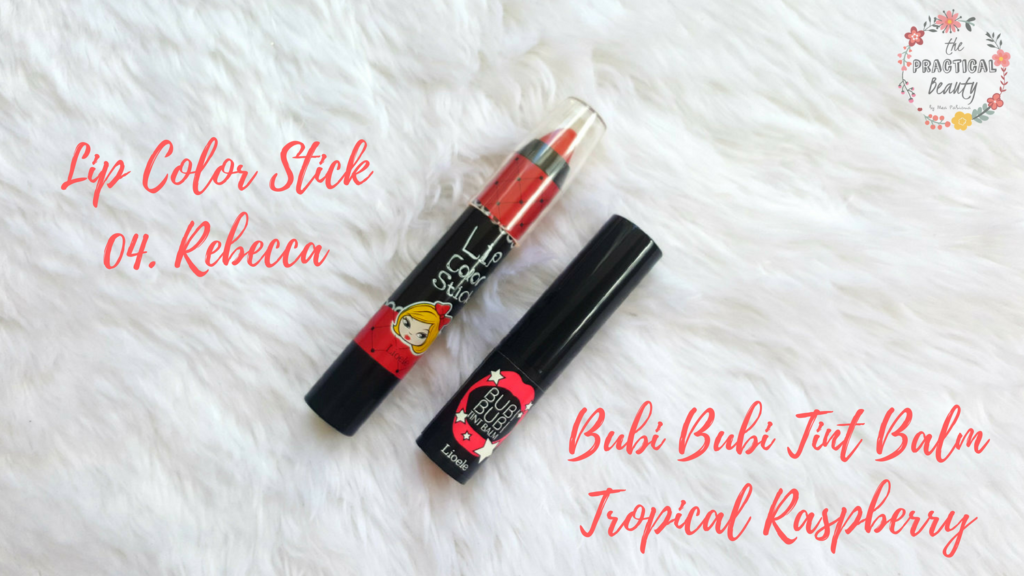 I feel like Korean beauty brands are winning at product packaging. Most of the K-beauty products I see always have pink in them and they always have kind of a princess theme. Lioele products are no exception. The packaging of the lippies are simple but I love the black base which is a good contrast to the electric accent colors.
Colors & Swatches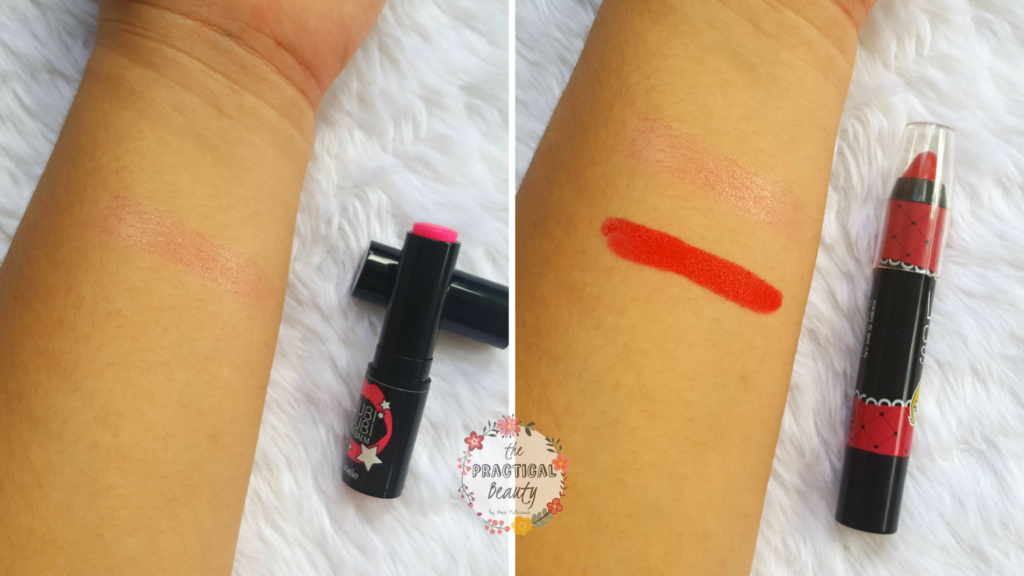 I got the tint balm in "Tropical Raspberry" and the lipstick in "04. Rebecca" or Cherry Red. So, let's break it down.
Tropical Raspberry
If I was to think of a tint, I immediately think of those lip and cheek tints that also stain your fingers (you know what I am talking about). This tint balm, however, is nothing like those tints. The color of the balm transferred unto my lips beautifully. I was using a lip balm of the same shade before this one. But, it won't really stain your lips with the color just like how other tints do.
04. Rebecca or Cherry Red
This lip color stick really packs a punch. The product is a bit sheer, but the color pay-off is vibrant as you can see from the photo of the swatch above. I was expecting more of a red mixed with a fuschia, to be honest. This shade of red, although very pretty, doesn't really work with my skin tone. I'm sure it will look fabulous on others but not on me, unfortunately.
Application
Both lippies feel like you have silk on your lips. They apply like silk too, especially the balm. Both lip colors glide on your lips and are non-drying. On the color stick, I like that it has a tapered tip so you can apply it with precision. You don't have to worry about a precise application with the balm since it's completely sheer. The only problem I have with lip color is that product goes on the cap when you try to cover the tip.
Price & Worth
Bubi Bubi Tint Balm – P252
Lip Color Stick – P262
When it comes to the price, I would say that the balm is a bit more expensive. You can buy a lip tint at the grocery store for P100 or less with a similar quality. It has 3.5g of product. I'm not sure how often you apply lip balm but I apply the one I got before the Bubi Bubi twice a day, every day. The amount of product is similar (3.5g). My last lip balm lasted my 3 months. I imagine that I will be finishing this balm off in the same length of time.
On a different note, I think that the lip color stick is worth the price. The application is easy, the color payoff is great, and it has 4g of product. You can really stretch out the use of this lip color by applying a little bit to your lips and spreading out the color since it's pigmented.
Final Thoughts
Would I use the products again? Yes for the color stick (in a diff shade) but no for the lip balm.
Who do I recommend the products to? I would definitely recommend these to people who don't want that heavy lipstick feeling on their lips. The products are light so you'll feel like barely have anything on.
Bonus Tutorial: Korean Ombre Lips With Lioele Lippies
I was thinking about how I was going to use the Cherry red lippie on myself since the shade doesn't match my skin tone. Then I realized that it's the perfect shade of red to use for a Korean Ombre lip. Because the Lioele products that we are using are easy to apply, you won't need to do much to create this look.
Steps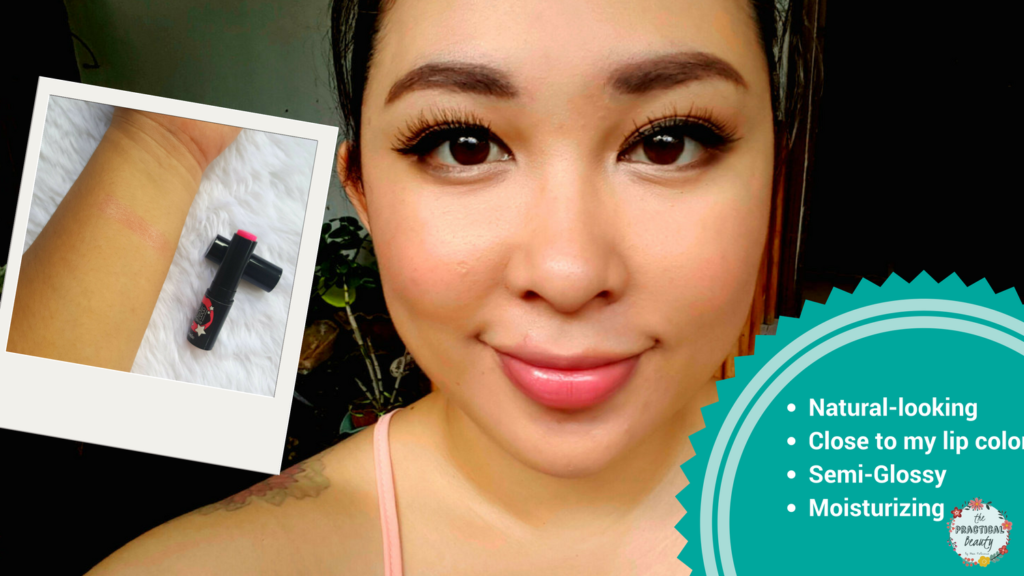 First, you apply the lip tint all over your lips. The above photo is how my lips look with the tint on. It's very natural-looking which is why I love it. Next, you apply the Cherry red on just the middle part of where your lips meet. Then, you pucker up!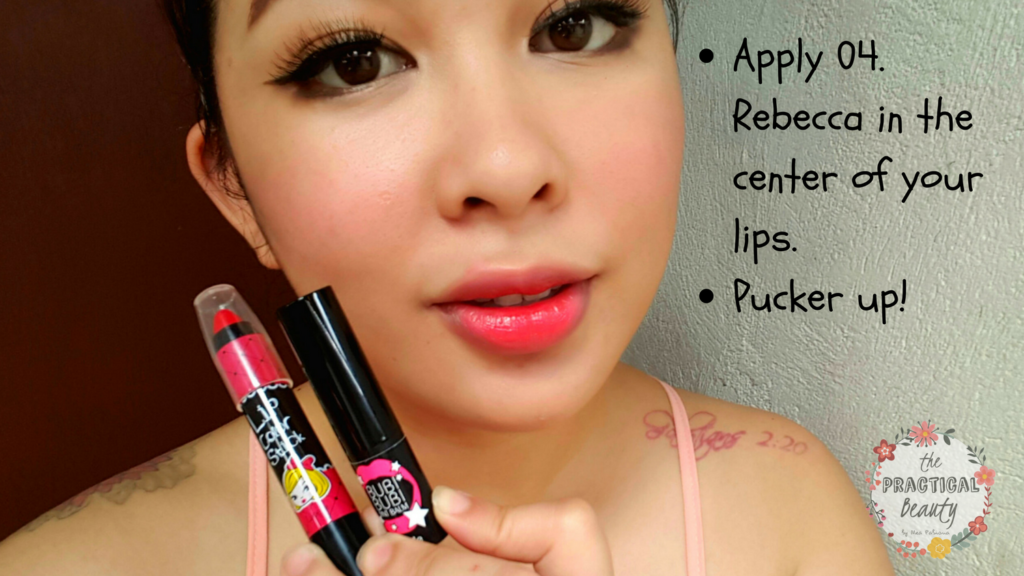 Yes, it's that easy. You might need to adjust the color a little bit based on your preference but creating the look is a two-part process with the right products. The Lioele lippies I have glide on like butter so there's barely anything to blend. I hope that you found this Lioele review and mini-tutorial helpful.