I have a new favorite site to order makeup from and it's called BeautyMNL. I had my first experience with them a couple of months ago! I had a P1000-peso budget including shipping and, I think, I was abe to stretch the budget out to buy what I needed for my makeup kit. Here's what I think (plus what I bought):
BeautyMNL Review: Website Navigation and Usage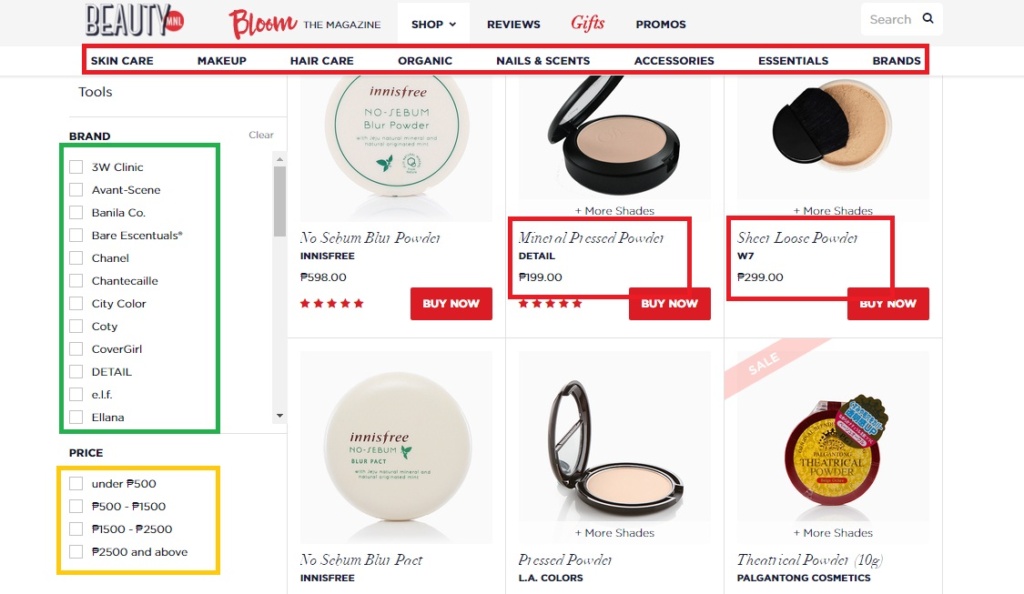 Red – Main Categories – these will tell you exactly what the site is selling. If you hover over each one, a dropdown menu will appear giving you finer options to click on.

Green – Brand Categories

– BeautyMNL makes it easier for you to look for items under a specific brand. All the brands they carry are listed on the left. All you have to do is find the brand that you want to be displayed. You can check more than one brand.

Yellow – Price Sort

– Budget beauties will appreciate this category. Personally, I stuck to the under P500 items so I checked the box. Surprisingly, I had a lot of under P500 items to choose from. Check the boxes in red; they have powders that cost P199 and P299.
Checkout and Freebies
Check out was smooth. The part I liked was the summary because the freebies the site had were already listed. I think I got two: a mini-size Apricot face scrub and samples of Tresseme shampoo and conditioner.

Waiting Time
My package arrived in 5 days. It would have been 3 days if there were no holidays. 3 days is a decent amount of time to wait for orders from a beauty site. You have to consider the processing time, which is usually 1 day, and then the actual delivery which is also usually a day.




BeautyMNL Goodies
Gummy Soaps –  P120 for Both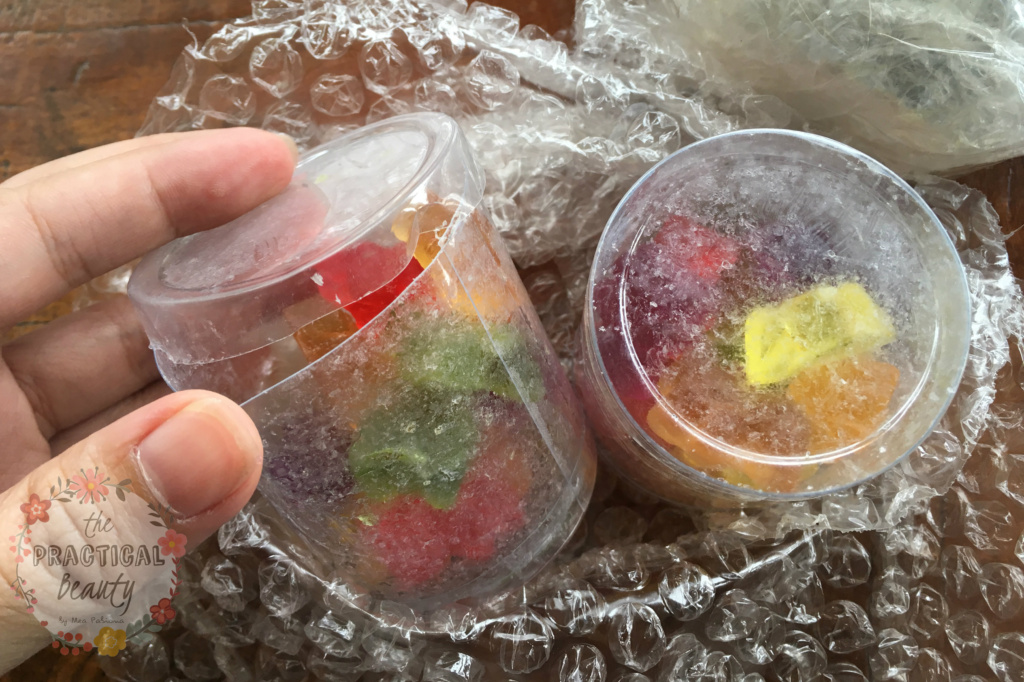 Every time a package arrives, my son usually asks me if there's anything inside for him except bubble wrap. He doesn't usually get anything from my packages so I made sure that there was a special item for him this time around. BeautyMNL had these soap gummy bears which are super cute! I ordered this for him and it actually encouraged him to wash his hands often.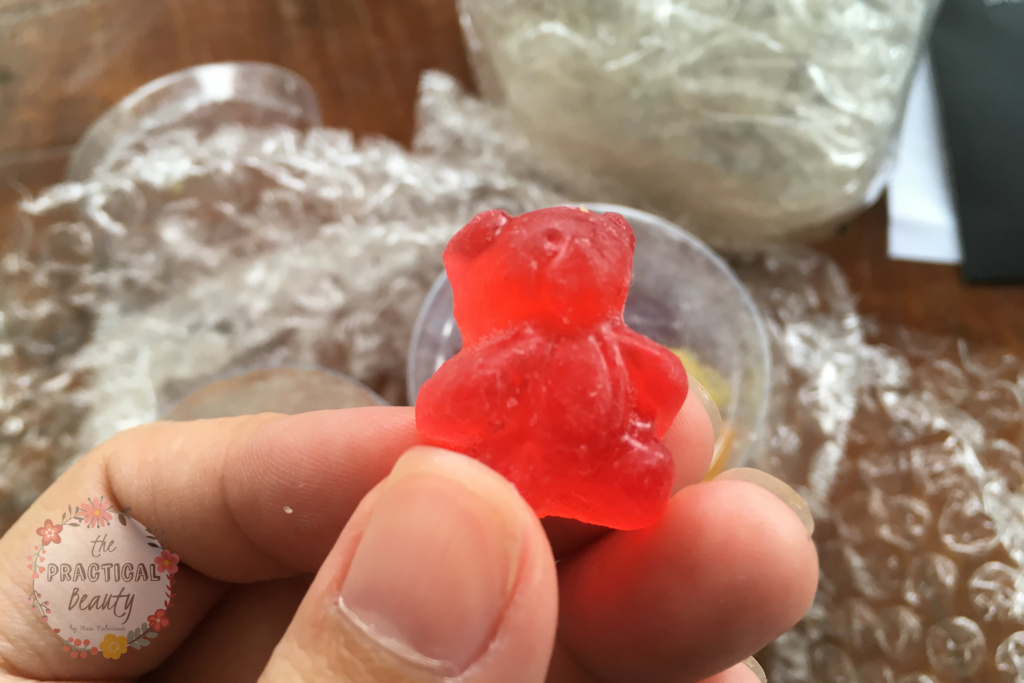 Simply Matte Lipsticks –  P149 Each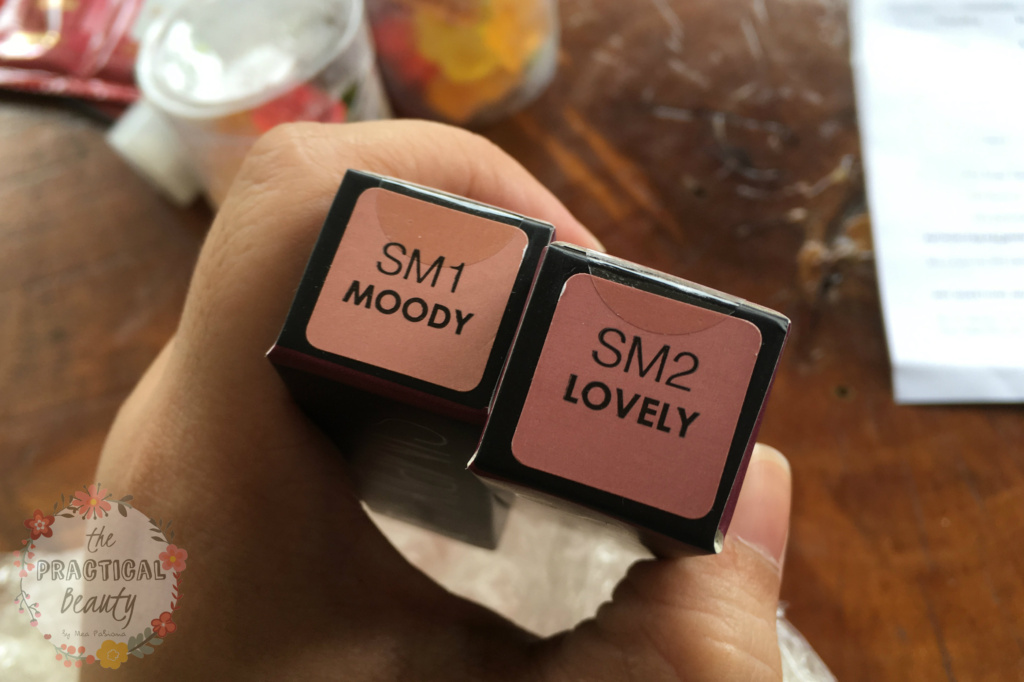 I scored with these because each one was only P149. I'm really into matte lippies lately and so is everyone, I feel like. To find ones that are of good quality at an affordable price is fantastic! I don't think that Simply Matte is on the site anymore, but you can always check out their bundle lip stuff: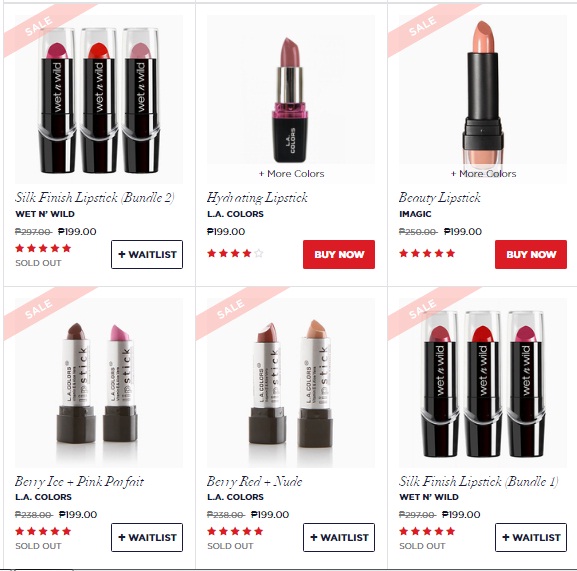 Maybelline Micellar Water at P199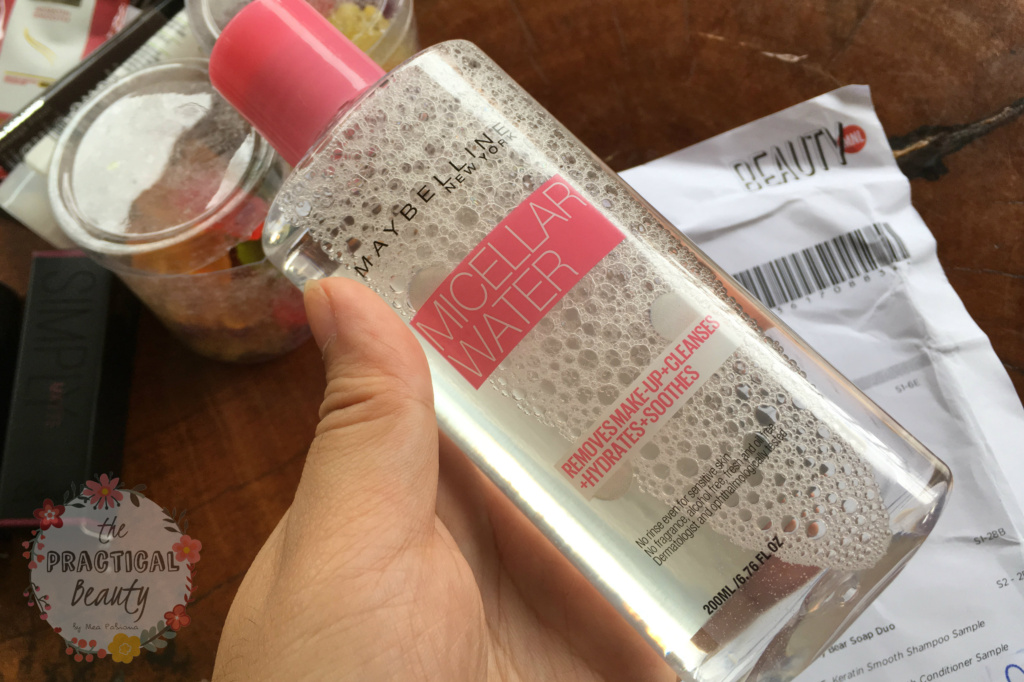 I'm going to do a review on this one pretty soon! Reserving my comments for now. But, this has NO SPILLS when it arrived.




LA Colors Brown Eyeliner at P119 & pro Concealer at P159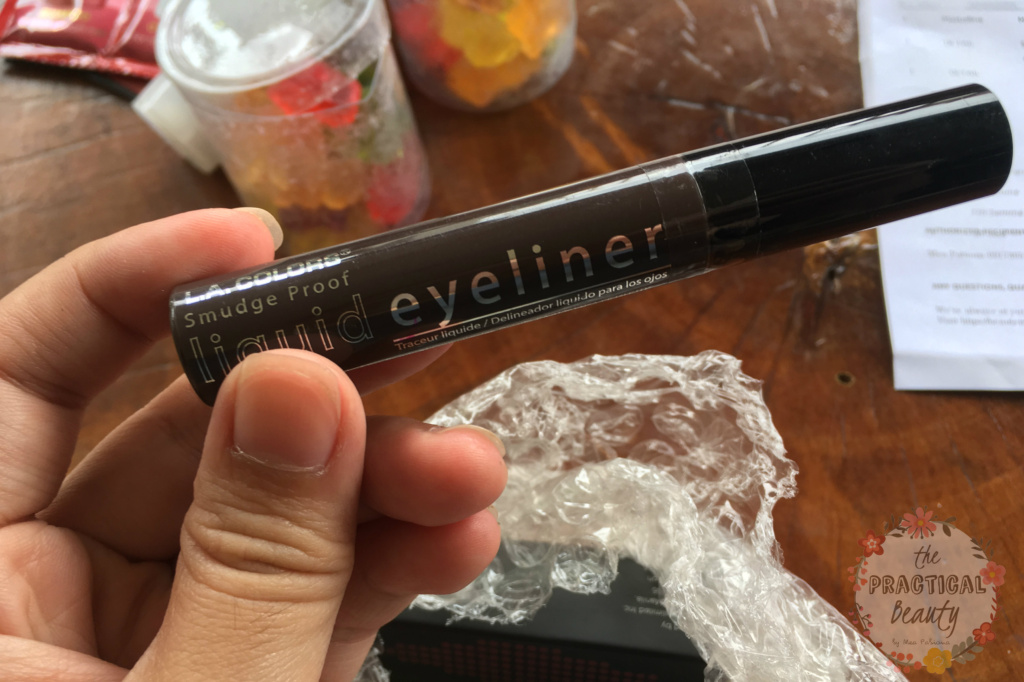 I had to get this one when  I read that it was smudge proof. I have yet to test it, but I will review this soon together with the LA Colors Pro Concealer stick.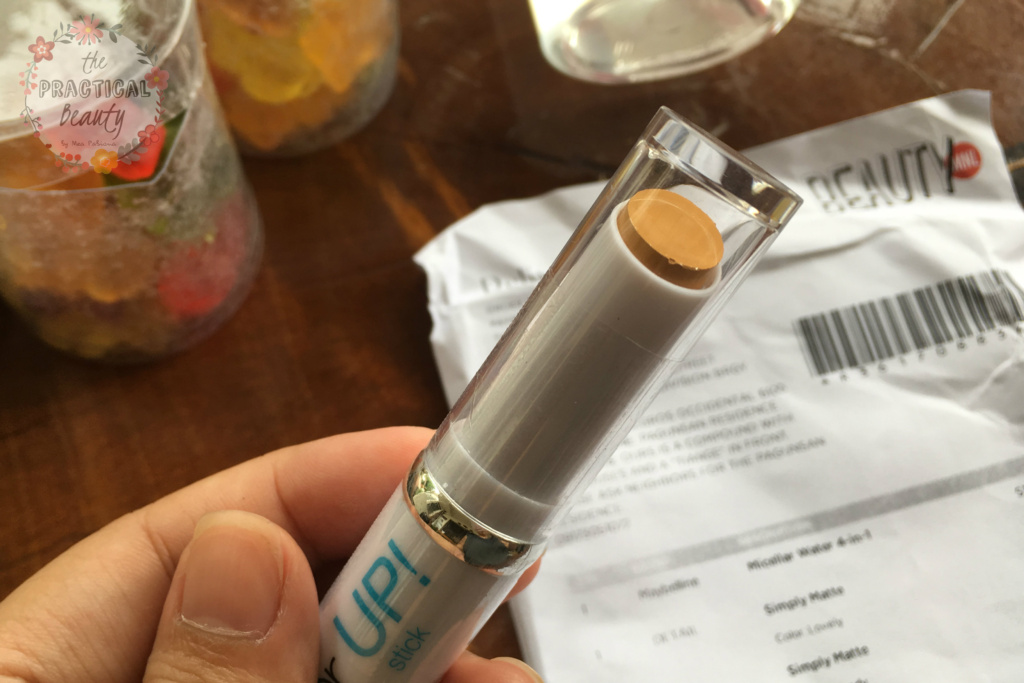 Review Summary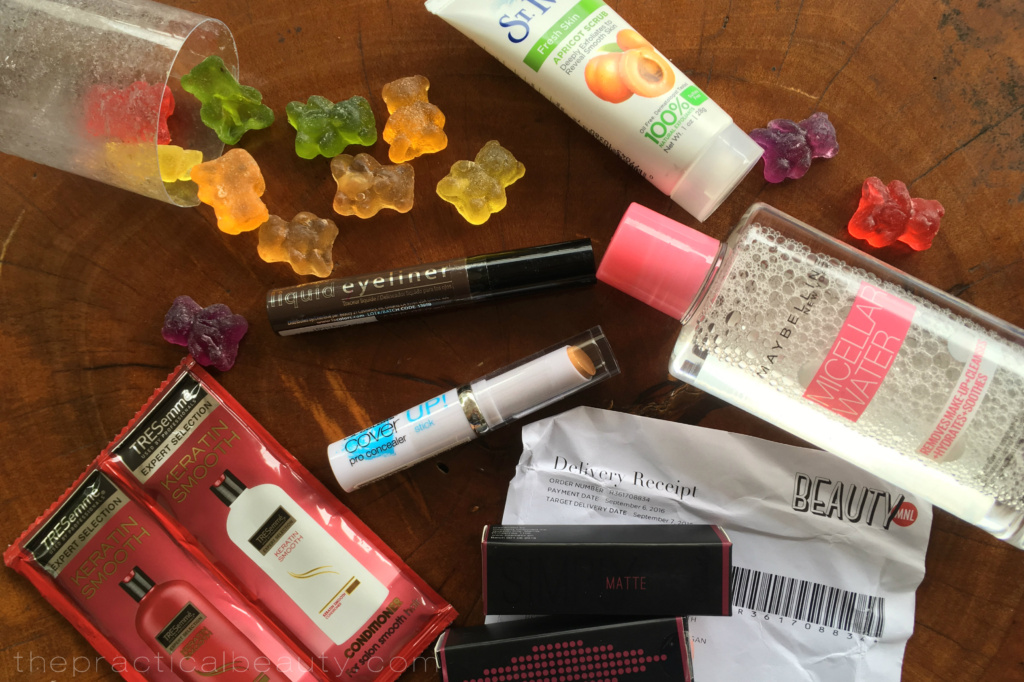 Website – User-friendly, and easy to navigate through –  8 out of 10
Customer Service – They sent texts, emails and so on to confirm my order –  9 out of 10
Delivery Speed – 5 Days which could have been shorter if it weren't for the holiday –  8 out of 10
Products' Condition Upon Arrival – Everything was well packed – 9 out of 10
I'm definitely ordering for from this beauty site again! I'm checking out their palette section which has a lot of SALE items! You can definitely build your makeup kit from the items on BeautyMNL so why not start today?