Skinny Feels is a new brand of soap that aims to bring YOU your much needed "me-time" with every shower. With this kind of tag-line, passing up the opportunity to try two of the Skinny Feels soaps wasn't an option. Co-owner, Liz Acostan, sent over two soaps that she thought I would like: The Everyday Soap and The Kind Soap. I tested both soaps for about a week and here are my thoughts on them.
Skinny Feels Overview
Skinny Feels soaps are not 100% organic because of the binders used to merge ingredients like water and oil. They are, however, hand-made, formulated by a licensed pharmacist and packaged in a clean and hygienic way.
The Practical Beauty TIP: Most organic and hand-made soaps dissolve quicker because of their natural ingredients. It's best to cut them up into rectangles or cubes so you they can last longer.
FYI, I cut each soap up into 4 parts.
Skinny Feels The Kind Soap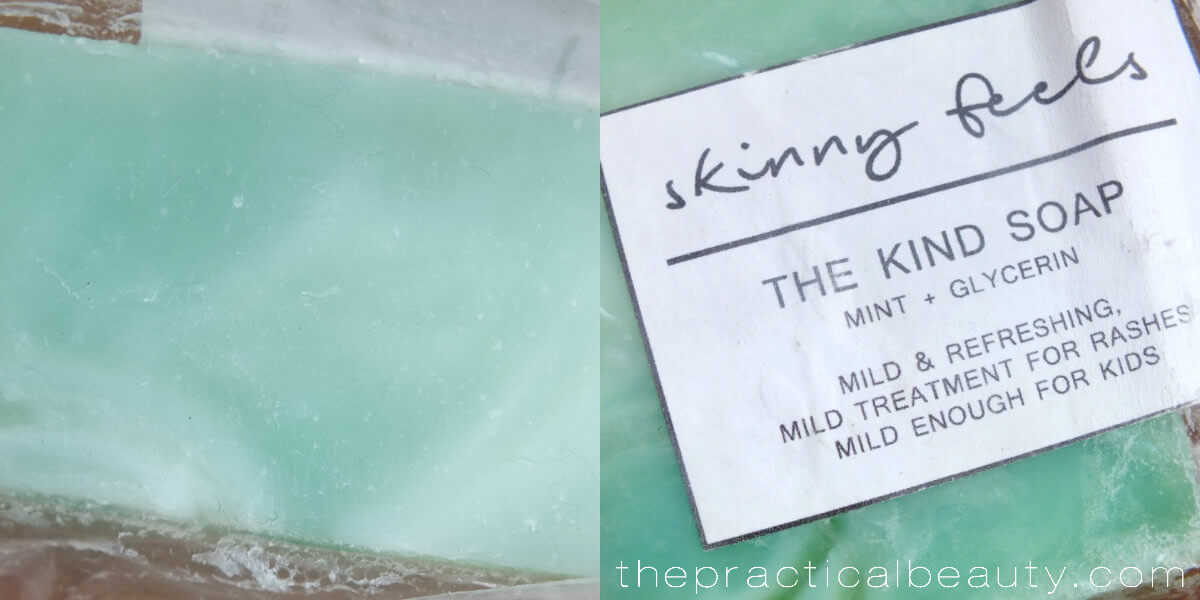 [wpsm_comparison_table id="2″ class="center-table-align"]
When you lather is up, you won't automatically feel the mint kicking in. You'd have to wait for about 30 secs to 1 min until you feel it. This is why you need to linger, a little bit, when you use this soap and, believe me, linger you will in the shower because it's so relaxing and refreshing. I'm giving this a 5 out of 5.
Lather – Unlike other hand-made soaps, it lathers up nicely. You don't have to rub it on your skin that much or put water on it to work up a good lather.
Mildness – I tried this on my son because it says that it is safe for kids. He loves it to bits and is his current soap of choice every time he takes a bath. With this said, don't expect the soap to feel like omega pain killer.
Really refreshing during a hot day – I take baths or "half baths", as we Pinoys call it, every time it gets too hot. I always use this soap because it cools my skin off and makes me feel the heat a little less after my bath.
Melts slower – I'm currently on my second cut. I use the soap about 2-4 times everyday on my body. The 1 part out of 4 lasted me approximately  10-12 baths. If you multiply that with 4 (because I cut it into 4 parts), one The Kind Soap from Skinny Feels will last me approximately 40-48 baths. That's good for more than a month if you take 2-4 baths every day.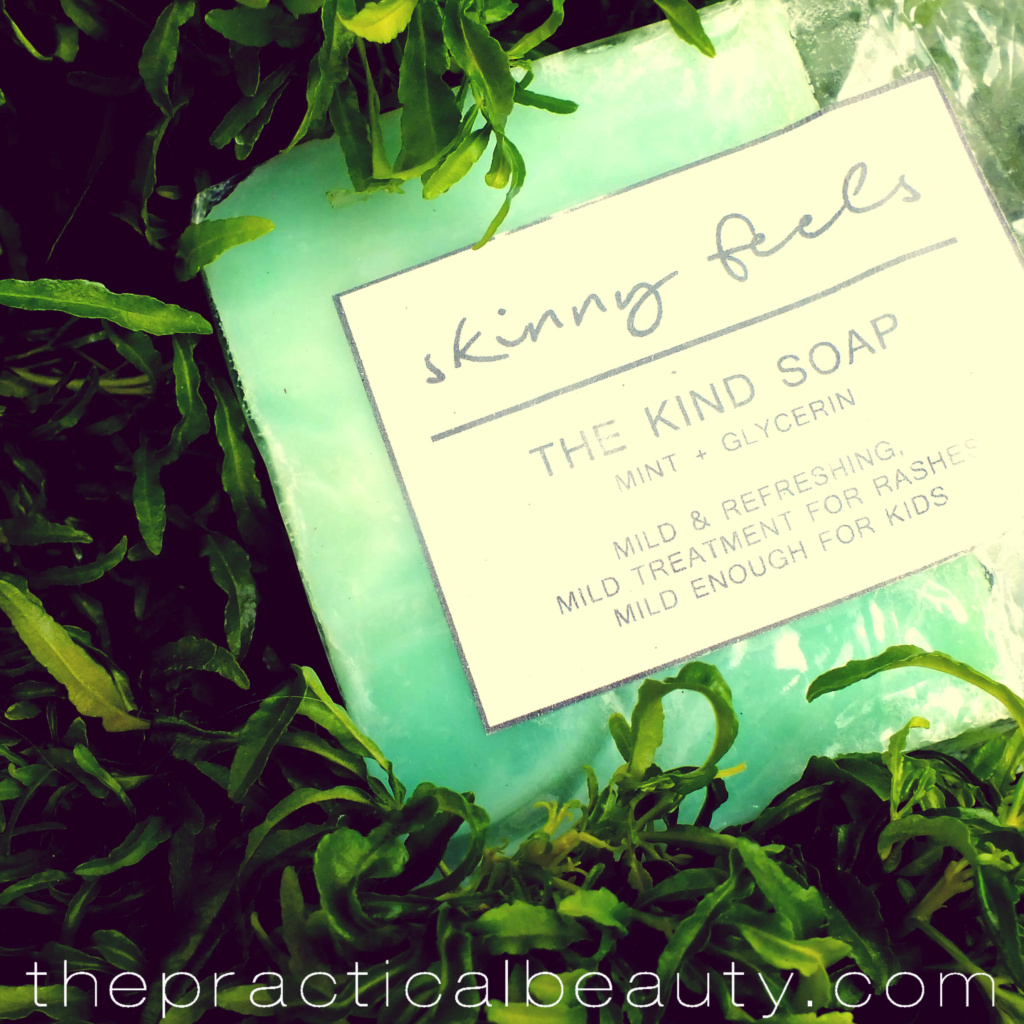 I highly recommend this because summer is coming. You're going to want this soap for yourself and your family post beach escapade. Even if summer hasn't come yet, it's still really hot every day so this soap is your answer to those unbearable Philippine afternoons.
Skinny Feels The Everyday Soap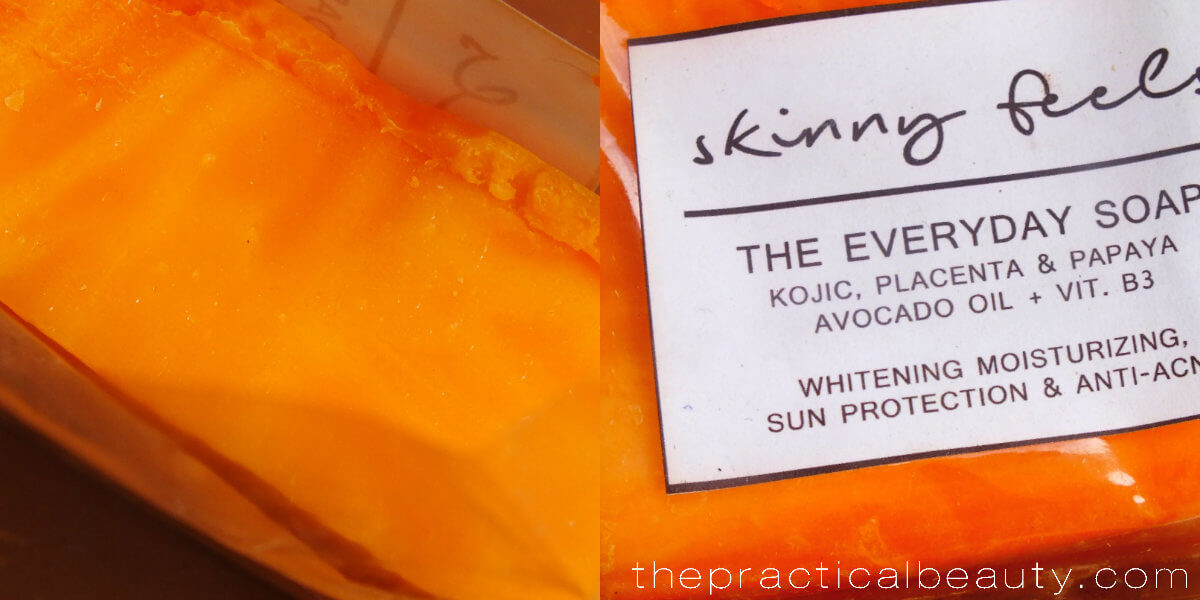 [wpsm_comparison_table id="3″ class="center-table-align"]
You'll see a lot of hand-made orange soaps in the market but what makes The Everyday Soap different is it doesn't lather up orange bubbles. Orange soaps that make the same color lather tend to be too harsh for your skin, making it hypersensitive to sunlight. I'm giving this a 4 out of 5.
Lather – As mentioned, The Everyday Soap doesn't give off an orange lather. You'll see just white, soapy lather when you use this soap. It also lathers up pretty well, just like The Kind Soap.
Feel and Usage – You can use this soap all over your body but I just use it on my face because I don't understand why I am breaking out lately. I'm currently still on my 1st part out of 4. This soap will definitely last longer than 2 months when you use it on just your face.
"All-in-one" kind of soap – If you read the description carefully, you don't have to moisturize or apply sun screen after you use the soap. This is true for users with normal and oily skin type, but when you have dry skin, you still have to apply moisturizer and sunscreen after every wash.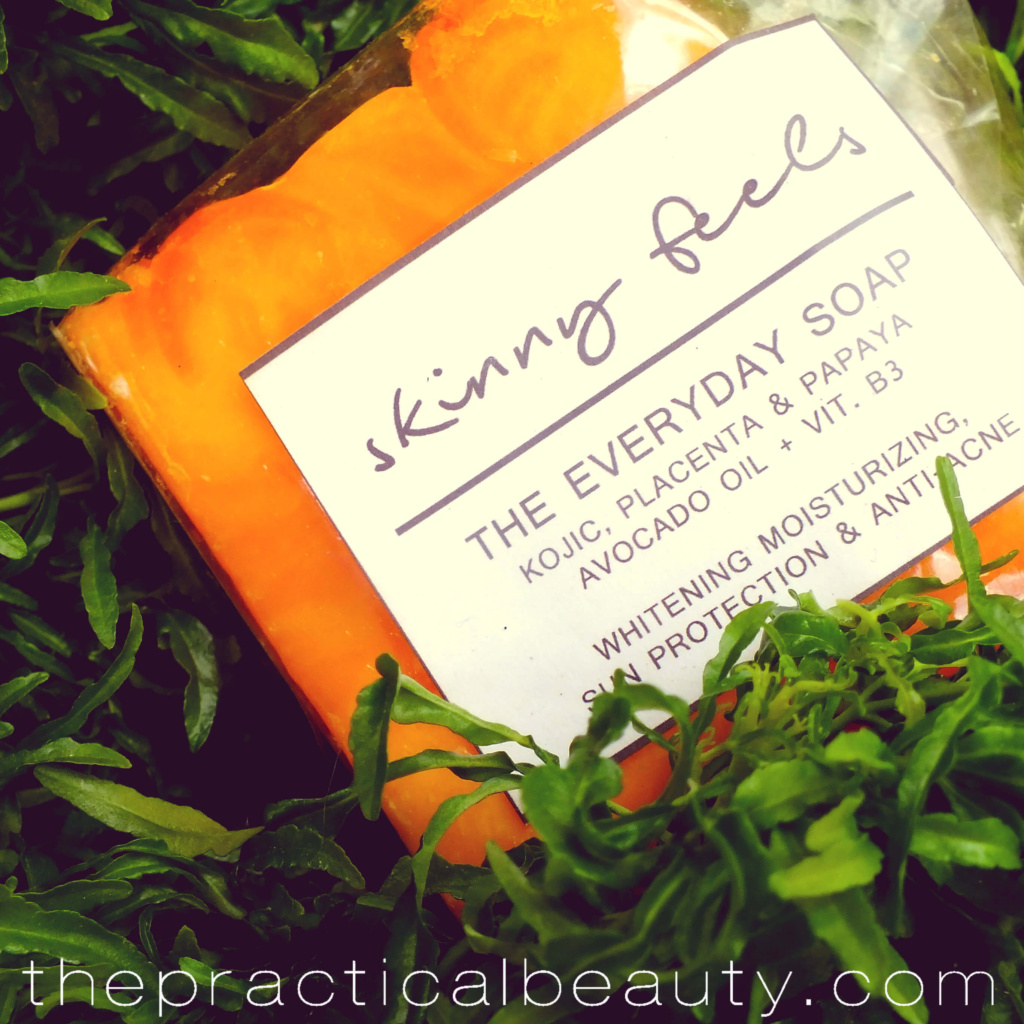 This soap isn't for everyone (not for kids and users who are sensitive to kojic) and that's why I gave it 4 out of 5. As a beauty soap, however, it works very well. I found that it dried out my pimples, but it didn't prevent new ones from popping out. It's still, however, very cleansing and it leaves your skin feeling supple.
Skinny Feels Price VS Longevity
The Kind Soap – If we do the math (40 washes/price of P150.00), you're basically spending P3.75 every bath.
The Everyday Soap – If you're using this on your face, it'll definitely last you more than 2 months so let's estimate it into 2 & a half which is 75 days. You divide that with its price and you're practically spending P2.40 every time you wash your face.
Each soap is actually not that expensive when you look at it in this perspective. All you have to do is cut the soaps up and place the pieces in a small container so they will last longer.
Disclaimer: The soaps were provided to me for a fair and honest review. These are my own observations and were not influenced, in any way, by the company or the owner.
Where to find Skinny Feels Soaps
You can find Skinny Feels soaps at the Fresh Start at the back of Robinson's Mall. They also have other soaps like: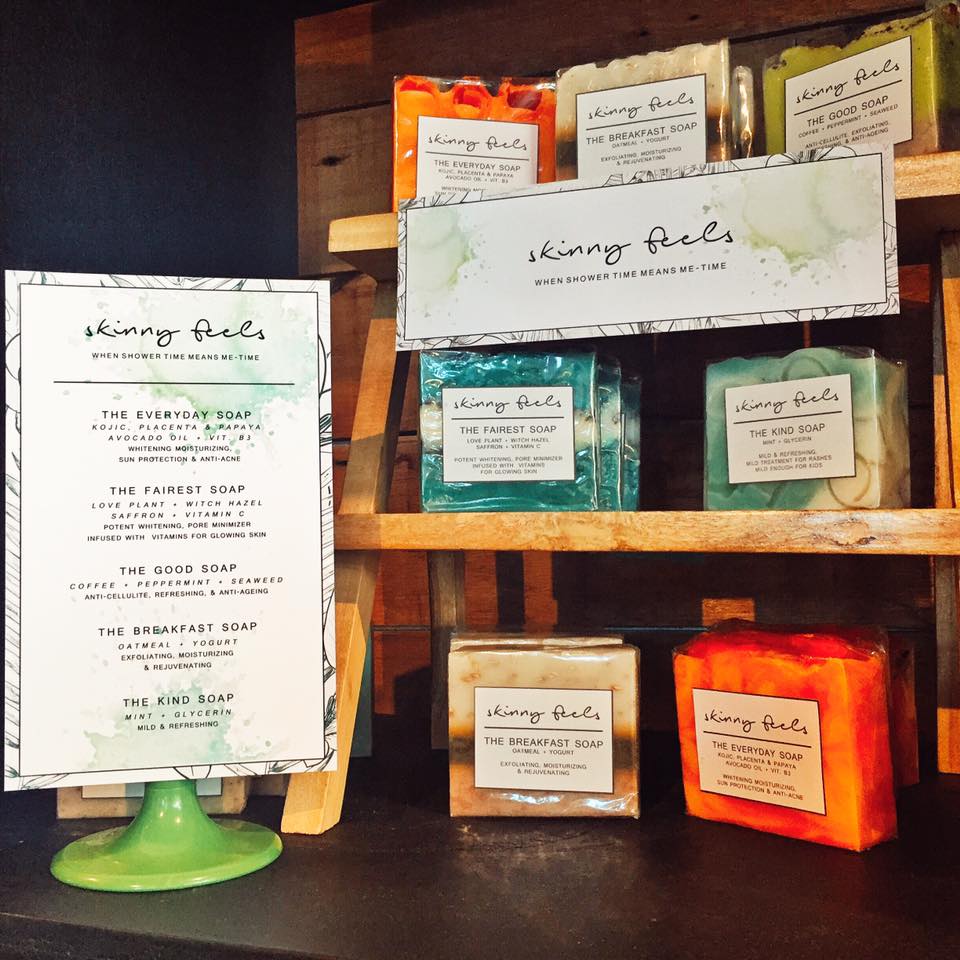 The Fairest Soap – which has Saffron and Witch Hazel. I am eager to try this one because it reduces pores and makes skin glow.
The Good Soap – which is anti-cellulite (it has coffee in it).
The Breakfast Soap – which has yogurt – a key ingredient for making dull skin bright.
0999-365-7695 – Contact this number for inquiries.
The Giveaway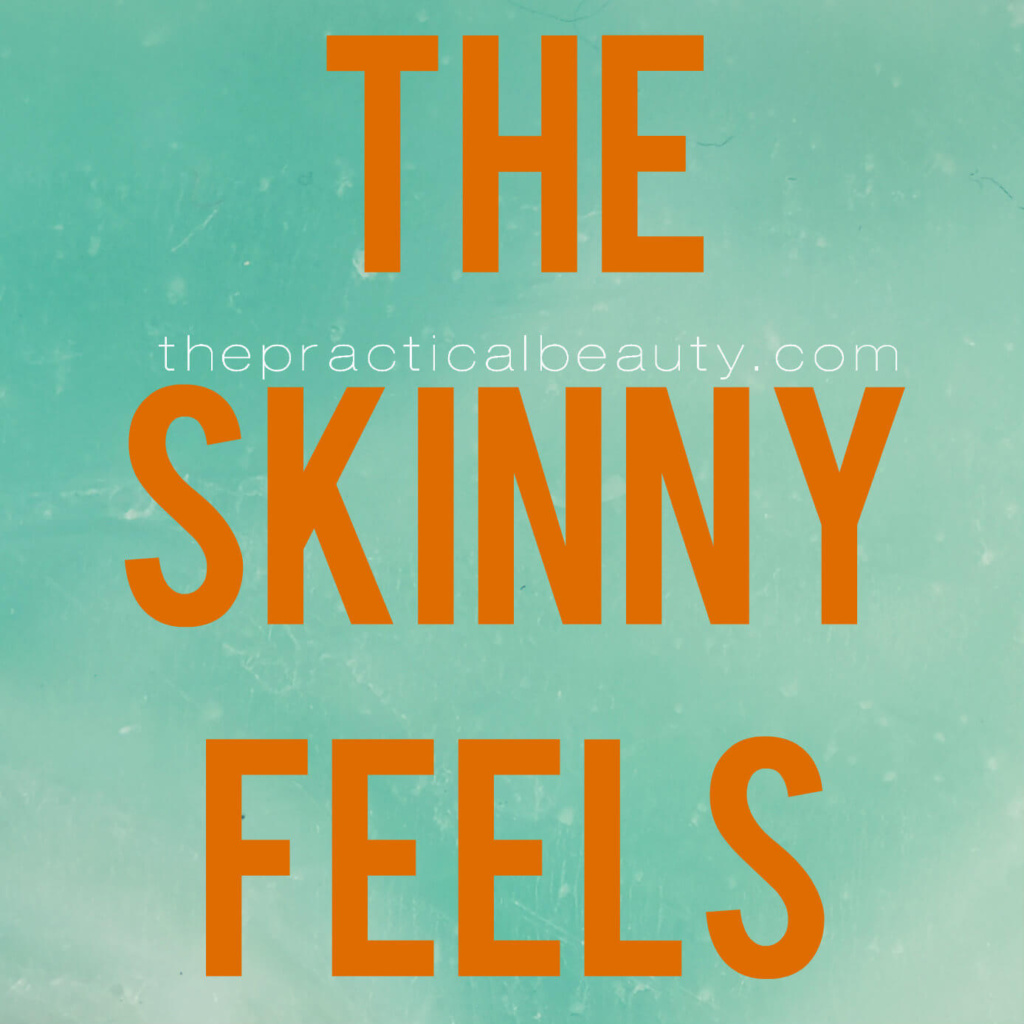 Skinny Feels is giving away 2 The Kind Soaps and 2 The Everyday Soaps. This is your chance to get some of that ME-TIME during every bath with Skinny Feels Soaps. You must have INSTAGRAM to join. You also must be a resident of Bacolod City. Here's what you do:
Follow @skinnyfeelsbcd on Instagram.
GO TO Mea in Bacolod on Facebook, for the rest of the instructions.